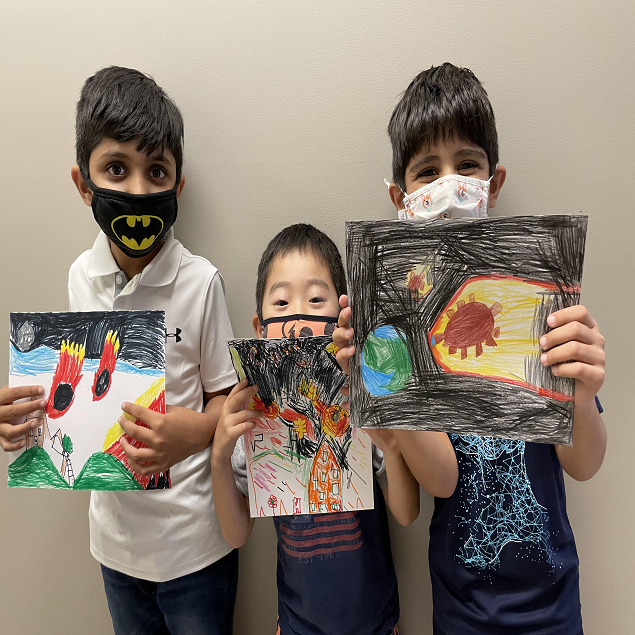 After School Program in Placentia
After School Program in Yorba Linda
After School Program in Fullerton
After School Program in Brea
At-Home Summer Activities
July 29, 2021
As summer is drawing to a close, we at Optimus want to remind you to take some time with your students to do some fun at-home activities. Below you will find some simple activities that require very little prep time! Doing activities as a family will create wonderful memories that everyone will cherish. 
Bloom Ball
During the Optimus summer camp, we encourage our students to use their creativity and imagination. One activity that students enjoy is creating a bloom ball. 
Supplies
Bloom ball template (found at the end of this blog)
Colored pencils, markers, crayons
Scissors
Glue
Imagination!
Instructions
Print out the bloom ball template. You will need a total of 12 circles to complete the activity.
Ask your student to draw anything they can imagine. It could be a design, a mythical creature, or a blend of beautiful colors. Students will use colored pencils, markers, and crayons to bring their drawings to life. They will need to design all 12 circles.
Using the scissors to cut out all the circles. Do not cut out the pentagons.
Fold the tabs of the circle to form the pentagons.
Now it's time to glue. Glue all the tabs to each other.
Your excellent bloom ball is complete!
Galaxy Cake Donuts 
These beautiful cosmic treats are always a hit and take very little prep time! Your student will enjoy helping you bake and decorate these out-of-the-world donuts! 
Ingredients
1 box of chocolate cake mix (makes about 24 donuts)
Vegetable oil (amount designated by the cake mix you buy)
Eggs (amount specified by the cake mix you buy)
3 Cups Confectioners' sugar
½ Cup Half and half
2 teaspoons vanilla
Food coloring
Edible glitter
Star sprinkles
Directions
Preheat your oven. (Please follow the directions on the cake mix you purchased)
While the oven is heating, make your cake mix.
Fill your donut tray with your cake mix. Make sure to fill each section to about halfway.
Place your trays in the oven for about 10-15 minutes.
Take your donuts out of the oven and set them aside to cool.
Make sure your donuts are completely cool, or your icing will melt!
Time to make the icing!
In a large mixing bowl, add the sugar, half and half, and vanilla. Mix well until the mixture creates "ribbons" as you lift your whisk out.
Divide your icing into 4 shallow bowls.
Pick four colors and pour each color into one of the bowls.
Swirl the colors with a toothpick. Please make sure not to swirl them too much, or they will become a solid color.
Dip donuts into the icing. Lift and let the excess icing come off before placing it on a wire rack.
Add glitter and sprinkles!
Repeat steps 12 and 13 until all your donuts are frosted.
Time to eat your cosmic creations!

 
We hope that you and your family have a fun and fantastic time doing these activities!
Tagged: After School Program in Placentia, After School Program in Yorba Linda, After School Program in Fullerton, After School Program in Brea
Optimus Learning School is a tutoring center in Brea serving Fullerton, Placentia, and Yorba Linda. Since 2008, we have been helping students from kindergarten through high school achieve their academic goals through our various programs such as our home school, after school program, homework help, and private tutoring. We also offer seasonal programs such as our popular summer camp. There are many enrichment classes year-round, such as coding, STEM, piano, and art which will help shape creative and well-rounded students. Are you ready to kickstart your child's education? Send an inquiry form or contact us today!