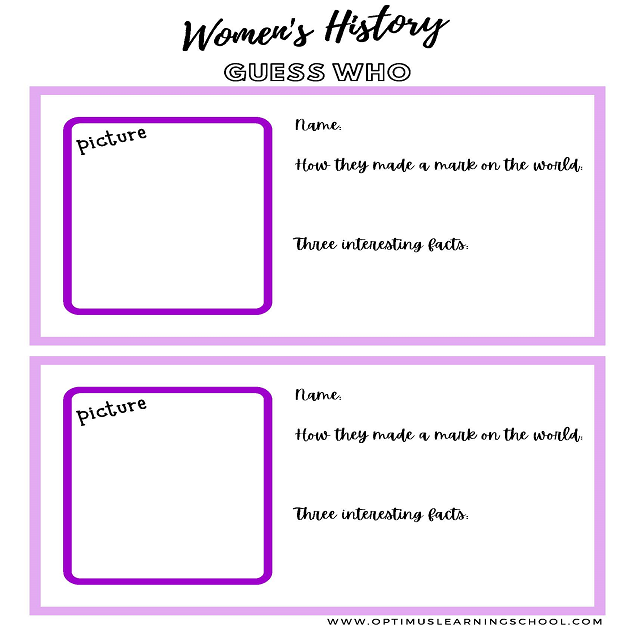 Summer Camp in Brea
Summer Camp in Fullerton
Summer Camp in Placentia
Summer Camp in Yorba Linda
Celebrate Women's History
February 24, 2022
March is Women's History Month! During this month, we take time to celebrate the achievements of women and take time to think about how these amazing women made their mark on the world! Below you will find some activities you can do with your family to observe and learn about some incredible women! 
Read the History 
Do you know the history of Women's History Month? The National Women's History Museum has a wonderful page where you can learn the month's history and how it all started! Here is the link to the page, Did You Know? Women's History Month. 
Read a Book 
Here are some wonderful books about female authors! 
She Made a Monster: How Mary Shelly Created Frankenstein by Lynn Fulton
Jane Austen for Kids: Her Life, Writings, and World with 21 Activities by Nancy I. Sanders
Rise!: From Caged Bird to Poet of the People, Maya Angelou by Bethany Hegedus 
Here are some books about inspirational women! 
Herstory: 50 Women and Girls Who Shook Up the World by Katherine Halligan
A Is for Awesome!: 23 Iconic Women Who Changed the World by Eva Chen
Fantastically Great Women Who Changed the World by Kate Pankhurst 
Play a Game 
Before playing the game, your family will need to research some facts about famous women. Here is a list that will get you started!
Amelia Earhart
Annie Oakley
Coretta Scott King
Georgia O'Keeffe
Harriet Tubman
Helen Keller
Louisa May Alcott
Lucretia Mott
Marie Curie
Melba Pattillo
Rosa Parks
Sally Ride
Shannon Lucid
Sojourner Truth
Susan B. Anthony
Wilma Rudolph 
At the beginning of this blog, you will find a worksheet for everyone to fill out. Print out the worksheet, one or two copies per person. After completing the research and worksheets, cut out each card. Now you are ready to play Women's History Guess Who! 
How to play:
1.   Choose one person to be the host! This person will collect all the cards and say the facts.
2.   The host will choose one of the cards and read the three interesting facts first.
3.   After reading the facts, they will give the players one minute to guess.
4.   If none of the players guess the person based on the three interesting facts, the host will read the "How they made a mark on the world" fact.
5.   The player with the most number of correct answers wins! 
Have fun playing!
Tagged: Summer Camp in Brea, Summer Camp in Fullerton, Summer Camp in Placentia, Summer Camp in Yorba Linda
Optimus Learning School is a tutoring center in Brea serving Fullerton, Placentia, and Yorba Linda. Since 2008, we have been helping students from kindergarten through high school achieve their academic goals through our various programs such as our home school, after school program, homework help, and private tutoring. We also offer seasonal programs such as our popular summer camp. There are many enrichment classes year-round, such as coding, STEM, piano, and art which will help shape creative and well-rounded students. Are you ready to kickstart your child's education? Send an inquiry form or contact us today!