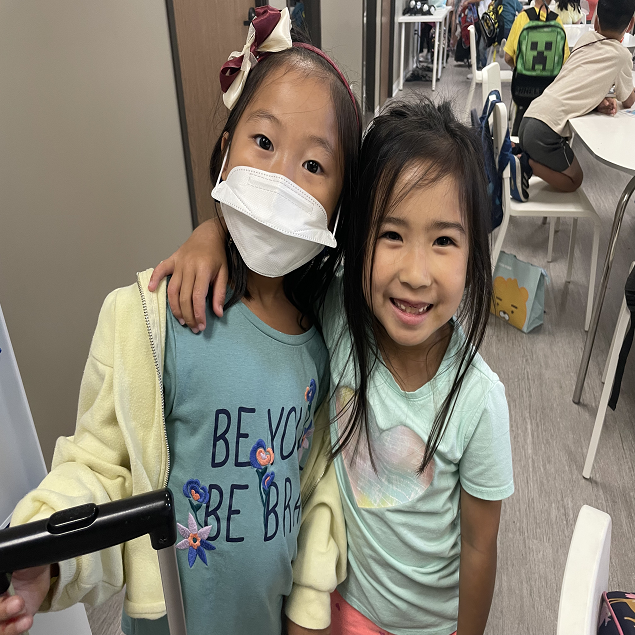 After School Program in Brea
After School Program in Fullerton
After School Program in Placentia
After School Program in Yorba Linda
Summer Art Activities
June 23, 2022
Summer time allows kids to have a break from school and really explore other hobbies and fun things to do! One great thing for kids to explore this summer is art with these fun and easy art activities!  
Water Balloon Painting  
Materials  
Water balloons, filled with water, but not so full that they are about to burst*
Kiddie pool (the hard plastic kind)
Large piece of paper (such as butcher paper or poster board)
Tempera paint
Masking tape 
Directions 
1.   Tape the paper down to the bottom of the swimming pool.
2.   Fill small dishes 1/3-1/2 full with paint.
3.   Dip water balloons in paint part or all the way and set on the paper-covered bottom of the pool.
4.   Take position around the pool, lift it up, and tilt the pool back and forth and around to make the paint-covered water balloons roll around and make designs on the paper.
5.   When the painting is deemed complete, set the pool down, remove the water balloons, and then remove the painting to a safe place to let dry. 
Flower Suncatcher 
Materials  
Paper plates (the thin kind)
Scissors
Transparent contact paper
Flowers and leaves
Markers
Hole punch
Yarn 
Directions 
1.   Begin by making a frame for your flower suncatcher by cutting a hole in the center of a paper plate.
2.   Use the paper plate frame to draw a circle on the contact paper. The circle on the contact paper should be about a half an inch larger than the hole in the frame, so that it will fit the opening and stick to the plate.
3.   Arrange flower petals, petal pieces, and leaves in any design you like.
4.   Add another circle of contact paper over the top to protect and hold the flower design in place.
5.   Punch a hole at the top of the frame and tie a loop of string for hanging. Then find a sunny window and hang your suncatcher! 
Clay Leaf Prints and Pendants 
Materials  
Small leaves and ferns
Air dry clay
Wax paper, parchment paper, or a plastic placemat/tray
Drinking straws
String or elastic thread
Watercolor paint (optional)
Beads (optional) 
Directions  
1.   Lay a small leaf on the wax paper, vein side up.
2.   Pinch off a small piece of air dry clay (maybe a tablespoon or two) and roll it into a ball between your hands.
3.   Set the clay ball on the leaf. Then press down with the palm of your hand to flatten it.
4.   Carefully lift the clay disk, turn it over, and peel away the leaf.
5.   If you'd like to hang your leaf print, poke a hole at the top of your disk with a drinking straw.
6.   Repeat the process with additional leaves and clay balls.
7.   Let dry thoroughly (This may take two to three days.)
8.   Decorate Your Clay Leaf Prints: If desired, paint the clay leaf print with watercolors. 
It is finally summer and our students are so excited to spend their days at Optimus at our Summer Program. We have lots of classes that our students will take, but one of our students favorites is our art classes. For more information about our Summer Program, please visit our website at: OLS Summer Program!  
Tagged: After School Program in Brea, After School Program in Fullerton, After School Program in Placentia, After School Program in Yorba Linda
Optimus Learning School is a tutoring center in Brea serving Fullerton, Placentia, and Yorba Linda. Since 2008, we have been helping students from kindergarten through high school achieve their academic goals through our various programs such as our home school, after school program, homework help, and private tutoring. We also offer seasonal programs such as our popular summer camp. There are many enrichment classes year-round, such as coding, STEM, piano, and art which will help shape creative and well-rounded students. Are you ready to kickstart your child's education? Send an inquiry form or contact us today!