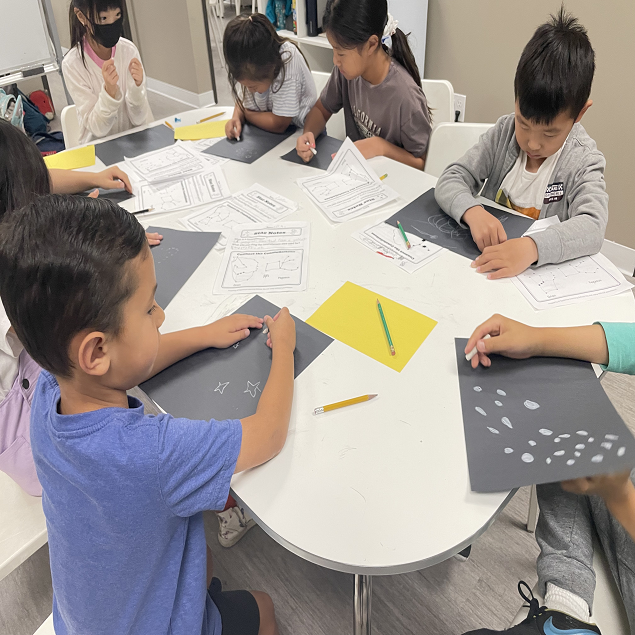 After School Program in Brea
After School Program in Fullerton
After School Program in Placentia
After School Program in Yorba Linda
Optimus Learning School | Galaxy Recipes
July 29, 2022
Optimus Learning School has "Space Week" this week! Here are some yummy desserts that have the theme of space that any kid can make at home!  
Cosmic Brownie Cookies  
Ingredients : (For 12 cookies)  
(Cookies)
1 1/2 cups salted butter softened
1 1/2 cups brown sugar
1/2 cup granulated sugar
3 eggs
2 tbsp corn syrup
1 tbsp vanilla extract
3 3/4 cup all purpose flour
1 cup cocoa powder
1 tbsp cornstarch
2 tsp baking soda
1 tsp salt 
(Fudge Topping)
2/3 cup heavy cream
2 cups semi sweet chocolate chips
1/3 cup rainbow coated chocolate chips 
Directions:  
1.   Preheat the oven to 350°.
2.   Use a hand mixer, cream together the butter and sugars until light in color and fluffy in texture.
3.   Add in the eggs, corn syrup and vanilla. Mix until thoroughly combined.
4.   Add the flour, cocoa, cornstarch, baking soda and salt. Mix until your chocolate cookie dough forms. The dough will be soft.
5.   Divide the dough out into 12 equal portions. Roll each portion onto a ball then flatten slightly so it looks like a hockey puck before arranging on a parchment paper.
6.   Bake at 350° for 15-17 minutes. The cookie should start to crack and crinkle, it will spread slightly and the centers of the cookie should no longer look wet before taking them out of the oven.
7.   While the cookies are baking in the oven, make the fudge frosting by measuring out the heavy cream into a microwave safe bowl.
8.   Microwave the cream for 1 1/2 minutes or until it is boiling.
9.   Remove the bowl from the microwave and add in the chocolate chips. Use a spoon and push the chocolate chips around so they are all covered by the heavy cream.
10. Allow the chocolate chips to sit in the hot cream for 3 minutes.
11. After the 3 minutes is up, use a whisk and stir the chocolate chips into the heavy cream until smooth. Set aside and let it cool while the cookies finish baking.
12. Once the cookies are out of the oven, let them cool on the pan for about 10 minutes and then spoon the frosting onto the top of each cookie and sprinkle with the candy coated chocolate chips while the icing is still wet.
13. Serve warm.
14. Eat and Enjoy!  
Lightsabers-Pretzel 
Ingredients: 
Long pretzels 
Melting chocolate
Mini M&Ms
Blue, Green, Red, and Purple Sprinkles
Chocolate frosting 
Directions:  
1.   Melt the melting chocolates according to directions.
2.   Dip the pretzel sticks into the chocolate.
3.   Cover the chocolate on the pretzels with sprinkles. (The sprinkles will be the color of the lightsaber)
4.   Where the melting chocolate ends, frost a small section and place two mini M&Ms. (This is the lightsaber switch) 
It is finally summer and our students are so excited to spend their days at Optimus at our Summer Program. We have lots of classes that our students will take, but one of our students' favorites is our cooking classes. For more information about our Summer Program, please visit our website at: OLS Summer Program!  
Tagged: After School Program in Brea, After School Program in Fullerton, After School Program in Placentia, After School Program in Yorba Linda
Optimus Learning School is a tutoring center in Brea serving Fullerton, Placentia, and Yorba Linda. Since 2008, we have been helping students from kindergarten through high school achieve their academic goals through our various programs such as our home school, after school program, homework help, and private tutoring. We also offer seasonal programs such as our popular summer camp. There are many enrichment classes year-round, such as coding, STEM, piano, and art which will help shape creative and well-rounded students. Are you ready to kickstart your child's education? Send an inquiry form or contact us today!