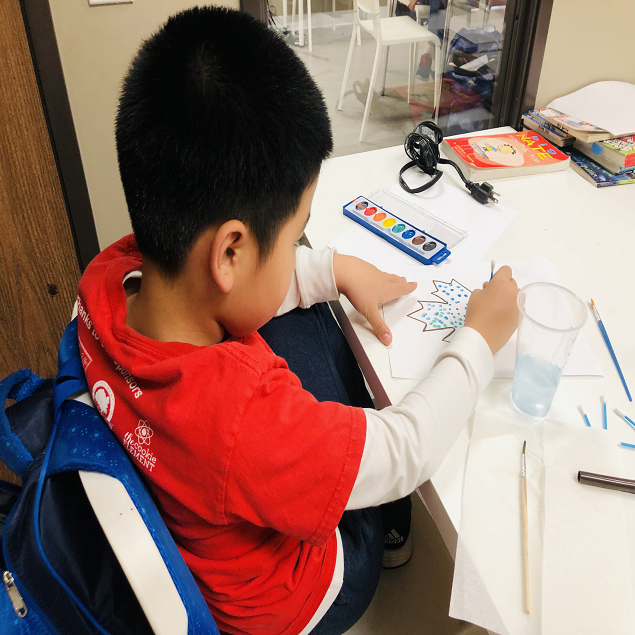 After School Program in Brea
After School Program in Fullerton
After School Program in Placentia
After School Program in Yorba Linda
Thanksgiving Activities for the Family
November 22, 2022
Fall is here, and it is time to get together with friends and family to celebrate the many things we are thankful for! During Thanksgiving week, many schools are off, and students have free time to relax. Here are some activities you can do! 
Sponge-Painted Turkey Craft
This fun and easy craft is perfect for the entire family! Be creative with your turkey! Make a turkey dressed up as a superhero or a different animal! Remember, you can be creative! 
Materials:
Googly eyes (1 pair per turkey)
Brown construction paper
Orange construction paper
Red construction paper
Acrylic paint (any color you would like your turkey's tail/feathers to be)
Paper plate (1 per turkey)
Scissors
Pencils
Sponge (You can use an unused kitchen sponge. Cut the sponge into small square pieces, each for each color of paint you are using.)
Glue 
Instructions:
1.   Take your brown construction paper, and draw an outline of your turkey's head and neck with your pencil.
2.   With scissors, cut out the outline you drew.
3.   Take your orange construction paper and draw a small triangle for the beak of your turkey.
4.   With scissors, cut out the small triangle.
5.   Take your red construction paper and draw out a small wattle for your turkey. The wattle is the red piece of skin that dangles below a turkey's beak.
6.   Now it is time to sponge paint! Take your paper plate. (This is the "tail" of the turkey.)Dip your sponge in your desired color of paint and sponge-paint the plate!
7.   When your paint has dried, glue your turkey head to the base of your paper plate.
8.   Glue your wattle to the back of your beak.
9.   Take your beak with the wattle and glue it to the middle of your turkey's head.
10. Now it is time for the googly eyes! Glue your pair of googly eyes a little above your turkey's beak.
11. Ta-Da! Now, your turkey is complete! 
Pumpkin Pie Bites
What is Thanksgiving without pumpkin pie? This yummy bite-sized dessert is perfect for satisfying your sweet tooth during your festive feast!
Ingredients
Premade pie crust (You can find this in the frozen dessert section of your grocery store.)
¼ cup of brown sugar
1 tbsp of sugar
½ tsp of salt
4 tbsp of butter
1 cup of pumpkin puree
½ cup of whipping cream
1 egg
1 tbsp of flour
1 tbsp of pumpkin pie spice
½ tsp of vanilla extract
Small cookie cutter or a lid of a mason jar
Small muffin pan 
Directions
1.   Preheat your oven to 350 degrees.
2.   In a large mixing bowl, combine the brown sugar, white sugar, pumpkin pie spice, and softened butter until the mixture is smooth and has a creamy consistency.
3.   Add the egg, whipping cream, vanilla, and flour until combined.
4.   Now, add the pumpkin puree and mix well.
5.   Set your mixture aside.
6.   Now it is time to roll out your pie crust.
7.   First, clean the area where you will be rolling out your crust.
8.   Take a small amount of flour and sprinkle the area, so your crust does not stick.
9.   The thickness of your crust is up to your liking!
10. Once you have rolled out your crust, take your small cookie cutter and cut out 12 circles.
11. Prepare your muffin pan by spraying it with cooking spray.
12. Now take your pie crusts and place them in a designated muffin tin.
13. You may need to use your fingers to press down and ensure that each mini crust is fitted in the muffin tin.
14. Take your pumpkin mixture and spoon some into each of the muffin tins.
15. Bake for 30 minutes or until your mini pie crusts are golden brown.
16. Remove from the oven and let it cool.
17. Once your mini pumpkin pie bites are cool, it is time to top them off with some whipped cream!
18. Your yummy treats are now ready to eat! Enjoy! 
Read a Thanksgiving Story
Here is another fun activity for the whole family! There are many beautiful books about the Thanksgiving holiday that will entertain and broaden your knowledge. 
How to Catch a Turkey by Adam Wallace
Turkey Trouble by Wendi Silvano
Balloons over Broadway by Melissa Sweet
There Was an Old Lady Who Swallowed a Turkey by Lucille Colandro 
We hope you and your family have a wonderful Thanksgiving! We at Optimus are thankful for our families and friends, our students and their families, and our community! 
At Optimus, we are proud to support our students by providing them with various academic and creative programs. For details about our programs, please visit our website at https://optimuslearningschool.com.
Tagged: After School Program in Brea, After School Program in Fullerton, After School Program in Placentia, After School Program in Yorba Linda
Optimus Learning School is a tutoring center in Brea serving Fullerton, Placentia, and Yorba Linda. Since 2008, we have been helping students from kindergarten through high school achieve their academic goals through our various programs such as our home school, after school program, homework help, and private tutoring. We also offer seasonal programs such as our popular summer camp. There are many enrichment classes year-round, such as coding, STEM, piano, and art which will help shape creative and well-rounded students. Are you ready to kickstart your child's education? Send an inquiry form or contact us today!