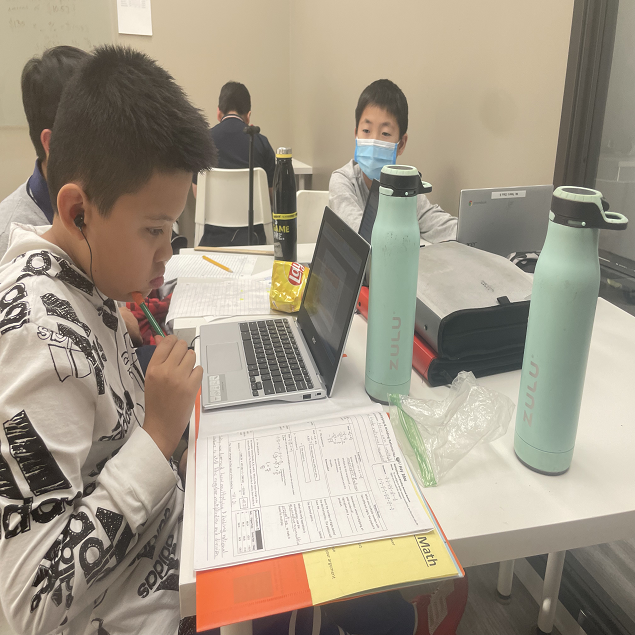 Coding Class in Brea
Coding Class in Fullerton
Coding Class in Placentia
Coding Class in Yorba Linda
Winter Recipes for Kids
January 19, 2023
Although the winter holidays encourage us to stay inside, there are many things that kids can do! One fun thing for them to do in order to learn responsibility, science, and math is to cook and bake! Here is a list of recipes that kids can bake and enjoy this winter season!  
Homemade Soft Pretzels 
Ingredients  
1 1/2 cups warm water (110–115 degrees F)
1 tablespoon sugar
2 teaspoons kosher salt
1 package active dry yeast (I used rapid rise yeast)
22 oz all-purpose flour, about 4 1/2 cups
2 ounces unsalted butter, melted
Vegetable oil for pan
10 cups water
2/3 cup baking soda
1 large egg yolk beaten with 1 tablespoon water
optional: additional melted butter and cinnamon-sugar
optional: powdered sugar, milk, melted butter for dipping 
Directions 
1.   Combine the water, sugar and kosher salt in the bowl of a stand mixer and sprinkle the yeast on top. Allow to sit for 5 minutes or until the mixture begins to foam. Add the flour and butter and, using the dough hook attachment, mix on low speed until well combined.
2.   Change to medium speed and knead until the dough is smooth and pulls away from the side of the bowl, approximately 4 to 5 minutes.
3.   Remove the dough from the bowl, scrape the bowl clean and then oil it well with vegetable oil. Return the dough to the bowl, cover with plastic wrap and sit in a warm place for approximately 50 to 55 minutes or until the dough has doubled in size.
4.   Preheat the oven to 450 degrees F. Line 2 half-sheet pans with parchment paper and lightly brush with the vegetable oil. Set aside.
5.   Bring the 10 cups of water and the baking soda to a rolling boil in an 8-quart saucepan or roasting pan (non-aluminum pot.)
6.   In the meantime, turn the dough out onto a lightly oiled work surface and divide into 8 equal pieces. Roll out each piece of dough into a 24-inch rope. Make a U-shape with the rope, holding the ends of the rope, cross them over each other and press onto the bottom of the U in order to form the shape of a pretzel. Place onto the parchment-lined half sheet pan.
7.   Place the pretzels into the boiling water, 1 by 1, for 30 seconds. If you're making pretzel "bites" put in as many as will fit without crowding. Remove them from the water using a large flat spatula (a metal spider works great). Return to the half sheet pan, brush the top of each pretzel with the beaten egg yolk and water mixture and sprinkle with pretzel salt or kosher salt.
8.   Bake until dark golden brown in color, approximately 12 to 14 minutes.
9.   Transfer to a cooling rack for at least 5 minutes before serving. 
Cinnamon Rolls  
Ingredients 
Dough 
1 cup milk
4 Tbsp butter, cut into chunks
3 1/4 – 3 1/2 cups all-purpose flour, divided
1 (.25 ounce) package instant or 'rapid rise' yeast (about 2 1/4 tsp)
1/4 cup white sugar
1/2 teaspoon salt
1 egg 
Filling
1 cup brown sugar, packed
1 1/2 tablespoon ground cinnamon
1/2 cup butter, softened 
Icing
1 1/2 C powdered sugar
2 T melted butter
1/2 tsp vanilla
1–2 Tbsp milk 
Directions 
Dough:
1.   Place milk and 4 tablespoons butter in a microwave safe bowl. Heat on high for about 1 minute 30 seconds. Butter should be mostly melted, but do not boil. Stir and set aside.
2.   In a large mixing bowl whisk together 2 C flour, yeast, white sugar, and salt.
3.   When the milk mixture has cooled to warm (not hot) add it to the flour mixture along with the egg while the beater is running. Beat until well combined, about 1 minute.
4.   Switch to a dough hook if you have one and add remaining flour only until dough barely leaves the sides of the bowl. It should be very soft and slightly sticky.
5.   Continue to let the dough knead for 5 minutes. If you are not using a stand mixer, turn dough out onto a floured surface and knead for 5 minutes by hand.
6.   Turn dough out onto a floured surface and let rest for about 10 minutes while you make the filling. 
Filling:
7.    It helps to have butter super soft. Mix with brown sugar and cinnamon. 
Assembly:
8.   Roll dough into a rectangle about 12 x 14 inches. Spread brown sugar mixture (it will be slightly thick, you might have to "crumble" it) over the surface and use your fingers or the back of a spoon to gently spread it around.
9.   Roll up from the longer side of the rectangle and pinch edges closed. Score the roll into 12 equal pieces and then cut into rolls.
10. Place in a 9 x 13 pan that has been sprayed with cooking spray. Cover the pan with a clean towel and let rise in a warm place for about 30 minutes. In the meantime, preheat the oven to 350 degrees.
11. When rolls have finished rising, bake for 15-20 minutes or until light golden brown. If desired, spread with icing while still warm. Makes 12 rolls. 
Optimus Learning School provides the best after school program in the Orange County area. For more information about our After School Program, please visit our website at OLS After School
Tagged: Coding Class in Brea, Coding Class in Fullerton, Coding Class in Placentia, Coding Class in Yorba Linda
Optimus Learning School is a tutoring center in Brea serving Fullerton, Placentia, and Yorba Linda. Since 2008, we have been helping students from kindergarten through high school achieve their academic goals through our various programs such as our home school, after school program, homework help, and private tutoring. We also offer seasonal programs such as our popular summer camp. There are many enrichment classes year-round, such as coding, STEM, piano, and art which will help shape creative and well-rounded students. Are you ready to kickstart your child's education? Send an inquiry form or contact us today!