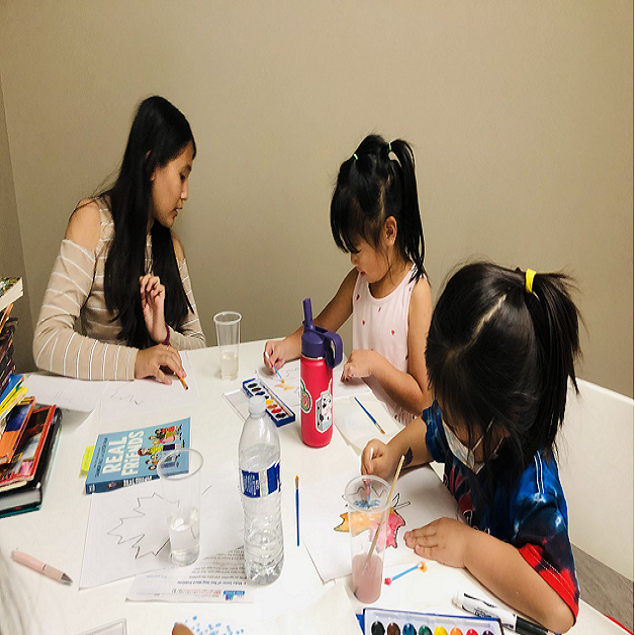 Art Projects for Valentine's Day
February 7, 2023
Valentine's Day is just around the corner full of hearts and candy! Here are some fun Valentine's day crafts that you and your kids can make in celebration of this fun and sweet holiday!  
Little Love Bugs  
Materials  
-a piece of cardboard approximately 2? x 4?
-small paper cups like 3 oz Dixie cups
-hot glue gun & sticks
-googly eyes, pipe cleaners, scrapbook paper, beads and any other decorations you'd like 
Directions 
1.   Choose the yard you would like for the body. Wrap it around the longer side of the cardboard 150-200 times. Cut the end, and with another small piece of yarn, tie a knot around the strands on one side.
2.   Flip over the wrapped cardboard, and cut through each strand on the side opposite the knot.
3.   Glue the yarn onto an upside down cup knot side facing down.
4.   When the glue is dry, begin decorating however you'd like!  
Paper Heart Mobile 
Materials  
-Construction paper or cardstock in a variety of colors
-Scissors
-Tape
-String or yarn 
Directions 
1.   Start by cutting out an assortment of hearts from your paper. Make them all different sizes and colors. You can even cut the inside of your hearts out to make heart frames for your mobile.
2.   Place a long string on a flat surface. Place your hearts along the string. Try to vary the sizes and colors of the hearts to give each mobile a unique look. Also, placing hearts inside of other hearts allows them to spin to give it an unique look.
3.   Tape each heart in place onto your string.
4.   Hang your mobile up and enjoy! 
Paper Roses Heart Craft 
Materials  
-colored craft paper
-rose templates (can find this online)
-heart template (you can draw one by hand if you would like)
-pencil
-scissors
-craft glue
-craft foam sheet
-yarn (optional)  
Directions  
1.   Print the template and cut it. Trace the templates on colorful craft papers – you can go with any color scheme you like.
2.   Cut out the traced patterns.
3.   Take one of the spirals and start rolling from the outer end.
4.   Roll all the way to the center.
5.   When you reach the center, "let it go" slightly so the roll loosens up a bit. Add a bit of glue on the "center" of the spiral and press onto the rolled part.
6.   Hold still for a while for the glue to set.
7.   Make the rest of the rolled roses the same way. Make as many as you need to fill the heart.
8.   For the heart base, you can either get one from the craft store or you can make one yourself. If you are making it yourself, draw a small heart and a bigger heart around it and cut.
9.   Start gluing the roses to the heart base.
10. Continue adding the flowers until you are happy with how the Paper Roses Heart Craft looks.
11. All done! You can add yarn for hanging or leave as is. 
Optimus Learning School provides the best after school program in the Orange County area. For more information about our After School Program, please visit our website at OLS After School! 
Tagged:
Optimus Learning School is a tutoring center in Brea serving Fullerton, Placentia, and Yorba Linda. Since 2008, we have been helping students from kindergarten through high school achieve their academic goals through our various programs such as our home school, after school program, homework help, and private tutoring. We also offer seasonal programs such as our popular summer camp. There are many enrichment classes year-round, such as coding, STEM, piano, and art which will help shape creative and well-rounded students. Are you ready to kickstart your child's education? Send an inquiry form or contact us today!