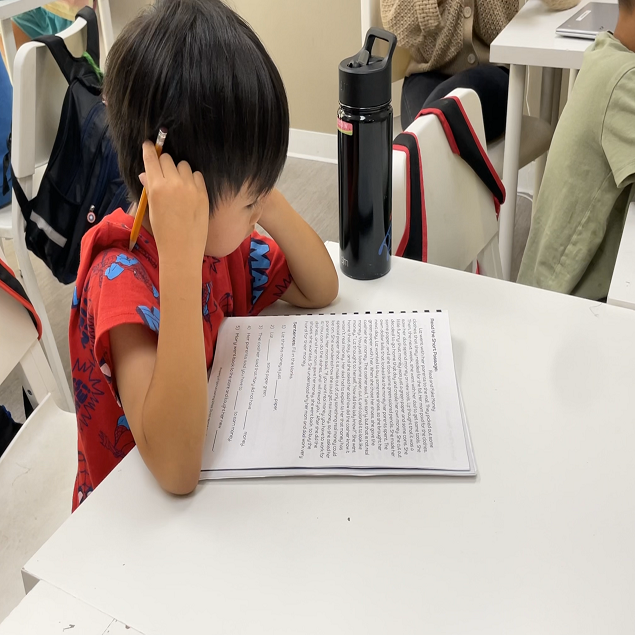 Book Club in Brea
Book Club in Fullerton
Book Club in Placentia
Book Club in Yorba Linda
Elevate Your Child's Learning Journey with Optimus Learning School's Book Club
October 18, 2023
In the dynamic landscape of education, finding the right Book Club class for your child can be a game-changer. Optimus Learning School's Book Club stands out from the crowd, offering an immersive and intellectually stimulating experience that goes beyond the ordinary. Here's why our Book Club is the best choice for your child's literary exploration:
1. Short Answer Questions that Ignite Critical Thinking
In a world saturated with multiple-choice assessments, our Book Club takes a refreshing approach. We believe in fostering critical thinking skills, and that's why our class includes short answer questions. These questions delve into the 'why,' 'how,' and 'what,' encouraging students to articulate their thoughts and engage with the material on a deeper level.
2. Critical Thinking over Fact-Based Queries
Our Book Club doesn't just stop at fact-based questions. We challenge students with queries that require thoughtful analysis. By asking 'why' and 'how,' we cultivate a mindset that goes beyond memorization, encouraging students to understand the underlying concepts, themes, and motivations in the books they read.
3. Extended Engagement: Half a Book in a Week
Rather than rushing through material, our Book Club takes a more deliberate approach. Students read half of a book over the course of a week, allowing them to fully absorb the narrative, characters, and themes. This extended engagement not only enhances comprehension but also allows for more profound discussions during class.
4. Real-Time Feedback for Parents through Our App
We understand the importance of keeping parents in the loop. With our user-friendly app, parents can access their child's grades and teacher comments right after each class. This transparency fosters a collaborative learning environment, where parents and teachers work hand in hand to support the child's academic journey.
5. Discussion-Centric Classes
Our Book Club is not just about answering questions; it's about fostering a love for literature. During classes, students engage in vibrant discussions about the books, authors, themes, and characters. These discussions not only enrich their understanding but also enhance their communication skills and confidence.
At Optimus Learning School, we believe in nurturing well-rounded individuals who are not just academically proficient but also critical thinkers and lovers of literature. Join our Book Club, where every page turned is a step toward a brighter, more intellectually curious future for your child.
Tagged: Book Club in Brea, Book Club in Fullerton, Book Club in Placentia, Book Club in Yorba Linda
Optimus Learning School is a tutoring center in Brea serving Fullerton, Placentia, and Yorba Linda. Since 2008, we have been helping students from kindergarten through high school achieve their academic goals through our various programs such as our home school, after school program, homework help, and private tutoring. We also offer seasonal programs such as our popular summer camp. There are many enrichment classes year-round, such as coding, STEM, piano, and art which will help shape creative and well-rounded students. Are you ready to kickstart your child's education? Send an inquiry form or contact us today!